The former reporter, who was 90, died with his family around him on Friday around lunchtime, according to a statement.
His family described him as a "journalist to the bone" and he continued to file a column for the Yorkshire Post until last month.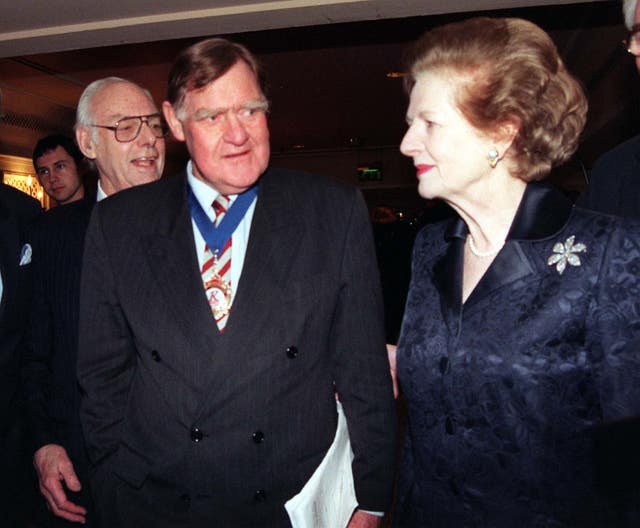 Son John Ingham said: "To the rest of the world he is known as the press officer for Margaret Thatcher, a formidable operator in the Whitehall and political jungle.
"But to me he was my father, and a great father as well. He was a fellow soccer fan and an adoring grandfather and great grandfather. He will be greatly missed by my family."
Born on June 21, 1932 and educated at Hebden Bridge Grammar School, Sir Bernard began his journalism career at the age of 16 at his local newspaper in West Yorkshire.
He worked with The Guardian before becoming a government press officer, but positioned himself as a staunch enemy of the "turn", criticizing those who practiced "black art".
Sir Bernard would manage the media as Lady Thatcher's press secretary for all but the first few months of her tenure.
He was knighted in honors of his resignation and wrote a book, Kill The Messenger, about his life at number 10.
Sir Bernard was married to Nancy Ingham, a former police officer, for 60 years. He died in 2017. He leaves behind a son, two grandchildren, and a great-grandson.
John Ingham thanked his father's nursing home, Tupwood Gate in Caterham, Surrey, and his previous carers at home for their "wonderful care and support".
Former Conservative Home Secretary Priti Patel described Sir Bernard as a "giant of British political communications and an enormously loyal man", while thanking him for his service to Lady Thatcher's administration.
Alastair Campbell, a former journalist and Labor adviser during Sir Tony Blair's time in power, said he "always treated me fairly and with consideration" while reporting on the Thatcher era, despite "working for a totally opposed to her and her". policies".
Julia Langdon, a former political editor for the Daily Mirror and The Sunday Telegraph, recalled visiting Sir Bernard at his nursing home towards the end of his life.
She told BBC Radio 4's PM program that, during a visit before Christmas, she found him in "great shape" and surrounded by newspapers as he prepared to write his regular columns.
"He told me that he wrote the columns based on how he would have told Mrs Thatcher what was happening in the world today," he said.
Recalling her time attending her briefings as Lady Thatcher's press secretary, Ms Langdon said: "Very often you had the feeling that you were listening to her voice.
"Sometimes they used the same phrases.
"You would hear Mrs Thatcher in the Prime Minister's Questions using a phrase in the House of Commons, and you would have heard the same phrase from Bernard Ingham sooner or later.
"He wrote her a daily analysis of the newspapers and she collected his sentences and he collected hers, I think."