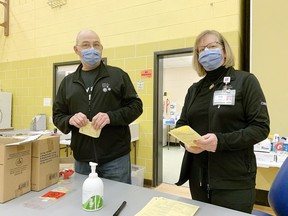 Article content
Three years and three relocations later, the city's COVID Assessment Center would close for good on Friday.
Article content
At the Beechgrove Complex, where it has been located since September 2020, a "COVID Assessment Center" sign removal ceremony would take place on Friday afternoon prior to a celebratory meeting of current and former staff.
As Director of Community Partnerships at the Kingston Health Sciences Centre, Cindy Bolton has been involved from the start. She set up the first testing center, at the Hotel Dieu Hospital in March 2020, but it only lasted a week before a surge in testing demand necessitated the center's move to the Memorial Centre.
However, York Street Stadium was too hot (a May heatwave didn't help) so the center moved again, this time to the much cooler Leon's Centre, but not before the first major outbreak in a beauty salon.
Article content
"The line wrapped around the Memorial Center, there was a seven-hour wait, and it was very hot. Also, the guidance also changed at that time, which made it much more open, so that people could get tested," Bolton recalled.
While they planned to administer 80 tests for one busy day, towards the end of their stay at York Street, they tested up to 700 people in one day.
She said that, with the exception of the Memorial Center, they had to figure out for themselves how to set up the tests to be as efficient as possible. They learned the most efficient methods, she said, from testing self-service popups on how to move people quickly and efficiently.
Bolton can remember a day when things didn't go well.
Article content
"In April 2022, there was a glitch, and instead of having 12 test points at 9 o'clock, we had 150. They all came and the line went down the ramp and around the parking lot," Bolton said with a smile. "We discovered the bug very quickly, but we had to get past all those people and we did and we had a laugh."
The testing center is among many to close in the province as the number of people undergoing tests or vaccinations has steadily declined. Whereas a year ago they were testing 300 people a day (they did 8,000 last spring), they are testing half that number these days.
The province also changed the testing guidance in January last year so that only those at high risk were eligible for PCR tests.
"It started off very, very tight and then it kind of opened up a bit, and then we ended up getting very involved in the initial prescription of Paxlovid, the antiviral drug, and that made for a very busy spring," Bolton said.
Article content
Staffing has been a challenge in the health care field, and the assessment center was no different.
"As a leader, one of the things I've learned over time is how to continually build a team through ups and downs," he said. "People would move into permanent jobs as soon as they could at the hospital. There are many of them. We probably had five different teams."
After Bolton, nurse Jerry Haffner has been the longest-serving member of the "Swab Squad," the nickname given to assessment center staff.
Haffner, who had been working at Kingston General Hospital when he volunteered to be transferred to the assessment center, started on June 20, 2020, while tests were still underway at the Memorial Center.
Haffner, who has been a nurse for 35 years, remembers being a little nervous at first as COVID-19 was, in many ways, still an unknown. She can now take samples from a patient in a minute and a half, a fraction of the time since she started.
Article content
Like Bolton, he enjoyed the job, even when it didn't go as planned. He remembers walking into Leon's Center one day, when he was stationed there, and the line, many of them children, wrapped around the outside of the arena three times. Staff had to go out and cut the number of people who could get tested.
"We gave (people in line) a clipboard, but they kept passing that clipboard over and over again," Haffner recalled. "So we had to have someone physically stand in line with the clipboard and say, 'We can't see anyone else past this.'"
In the beginning, there were a lot more graphics to do than now. He would have to ask a series of questions, many of them related to contract tracing, but now it's only when he started to feel sick instead of the previous circumstances.
Article content
Although she is saddened to see the test center close and staff disperse, she believes that "it is time."
"I think the community has learned how to deal with COVID and how to live with COVID. It's a sad time because we have regular customers who come in every week for their swabs," said Haffner, who said goodbye to his regular cafeteria staff of the last three years on his way to work Friday morning.
While she had to deal with several people complaining about having to get tested, things picked up once the vaccine was introduced.
"It was the happy part because you are working with the pessimism of COVID," he reflected. "But then, 'Oh, okay, they have a vaccine.' And we can start vaccinating people and that was a happy moment. People were more than willing to roll up their sleeves for a vaccine."
Article content
He worries that moving the testing and distribution of Paxlovid, the oral drug used to treat COVID-19, to pharmacists could have a negative impact on some of those regular customers (they ask him to take a sample), while that the evaluation was unique. stop buying for them.
"I think the hardest part is that people who really need the swabs will have a hard time finding pharmacies in the area to get the swab because they come here (and) know they can get Paxlovid, or how to find Paxlovid."
Haffner will now return to his previous position at KGH, where shifts last more than eight hours (he was working up to 16 in a row when COVID was at its peak) and rotated between days and nights. She could have retired last year, but he decided to stay because of "the state of healthcare right now and staffing shortages."
Article content
"I like my job. I really enjoy working with people," he said. "And if I hadn't, I wouldn't have been in this profession."
Just a couple of weeks after his 18th birthday, Ben Ma, who was stationed at the center's entrance on Friday to make sure people were sanitizing their hands and wearing proper masks, started working at the testing center.
He was enrolled at Queen's University at the time, studying theater and education, when his stepmother, Dr. Elaine Ma, who ran vaccination clinics in the city, asked if he was interested in working there.
"I wanted to do something that would help," Ma said. "I was looking for something that would be front-of-the-line in any way, shape or form."
Now 20 years old, Ma is thinking of changing her focus from drama to medicine, thanks to her experience at the assessment center.
Article content
"The work ethic (of the staff) and their attention to patient safety, as well as everyone's general morale, was very inspiring," Ma said. "It's something you don't really get to see in many workplaces. So being here was a revelation and a great experience for me."
Bolton, meanwhile, said he was looking forward to the closing party on Friday and the return of the five different cohorts of staff over the years. Many of them will move on to new jobs if they haven't already.
"It's bittersweet," he said. "I think it will be very nice to see people come back."