The 29-year-old equaled Wayne Rooney's national record of 53 goals by scoring from the penalty spot in the World Cup quarter-final against France in Qatar just 103 days ago.
But that night is best remembered for Kane missing his second shot from the penalty spot in a disappointing last-eight outing, making his historic goal in Thursday's European qualifier in Naples all the sweeter.
Declan Rice scored before the captain scored a penalty to become the first man to score 54 goals for England, who cruised to a 2-1 win after Mateo Retegui's strike and a late red card from Luke Shaw.
"Well, firstly, his overall performance tonight was outstanding," England boss Southgate said of Kane's record. "I thought he really dominated the centre-backs, his link play was really good.
"You could see from the start of the game that he was really focused.
"Breaking the record the way he did given recent history was an indication of his strength of character and mentality.
"I couldn't be happier for him and his family. They are lovely people.
"He is a brilliant professional and to do it as fast as he has with much of his career to go is an incredible achievement.
"Big credit to him. The players gave him a brilliant reception afterwards and I think it was a response to both the record and what he had to recover from as well."
Kane addressed the players after the game, with Southgate saying the players and staff recognized that "this was a very special and historic moment".
The England manager said he "deserves all the praise he's going to get" after a memorable night at the dilapidated Stadio Diego Armando Maradona.
England's first away win in Italy since 1961 was the ideal start to European qualification, as the Group C triumph saw Southgate become only the third manager to oversee 50 wins.
"We showed two sides for sure," Southgate said. "We had great control from behind in the first half and every time we got through that first line of pressure we looked really dangerous.
"And frankly, we should have buried the game. It should have been 3-0 at half time.
"If you start any half of football the way we started the second, you're going to be in trouble and we'll concede a really poor goal. Several mistakes on the way to it, decisions.
"And then of course the excitement of the whole night changes.
"You are giving the crowd a push, you are giving the opposition a push. You have to deal with the urge.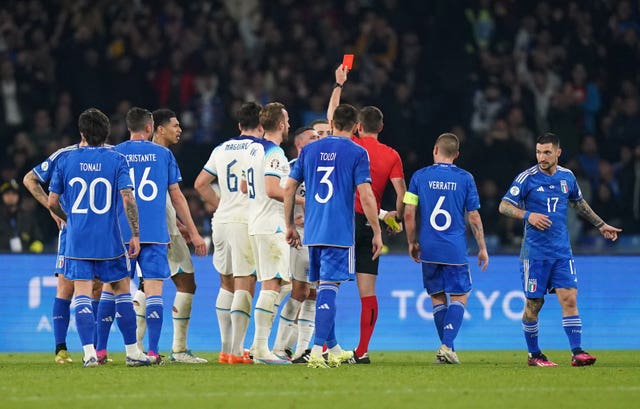 "So we have to deal with going down to 10, but actually I think we found a way that we could be as compact as possible with extra energy to deal with that.
"So, yes, at the end they can reference something that they've had to work on and dig away from home, which is very important and given our track record here, it's a huge result.
"But equally, we'd much prefer the first half to the second half!"
As for Italy, manager Roberto Mancini praised "complete forward" Kane for his goal in a frustrating night for his team in Naples.
"We knew it was going to be a difficult game, then we conceded two goals from two set pieces," said the former Manchester City manager. "We should have been more careful.
"We dominated in the second half and probably deserved a draw.
"We are disappointed with the result, but we still have a long way to go.
"In the second half we managed to press better, higher and I saw a great team again: this gives us hope.
"England are always dangerous from set pieces, but we shouldn't have conceded those two goals. We still managed to roll up our sleeves and play better.
"The road is a bit uphill now, but maybe it will end without a problem."