In sometimes short-tempered testimony that lasted for more than three hours, the former prime minister insisted there was not a "shred of evidence" to show he lied to lawmakers.
It would have been "utterly mad" for him to have misled Parliament, he told the Committee on Privileges which could recommend his suspension from the House of Commons.
If lawmakers vote on a proposal for a 10-day suspension, it could trigger a by-election in Johnson's seat, potentially spelling the end of his parliamentary career.
Arch-loyalist Jacob Rees-Mogg said Johnson won public support with his defenses despite being greeted with exasperation by several members of the multi-party panel of MPs.
The Tory MP told Channel 4 News: "I think if Boris Johnson went to a by-election he would win it handily. Because I think that he is winning in the court of public opinion, that he sees this as a kangaroo court."
Johnson refused to repeat such attacks on the investigation by some of his supporters, but criticized the "grossly unfair" process.
He appeared to argue that the committee's impartiality would be tested if it were cleared of any wrongdoing.
He conceded that he misled lawmakers, but said he did not do so "recklessly", insisting that he denied the blockade breaches "in good faith" on the advice of officials, which turned out to be wrong.
Harriet Harman, the Labor chairwoman of the Tory-majority committee, asked if she could see why they were "a bit dismayed by the flimsy nature" of the guarantees.
Senior Conservative Sir Bernard Jenkin questioned why Johnson did not take "proper advice", which Johnson angrily dismissed as "utter nonsense".
Johnson also criticized Alberto Costa for coming up with a "completely ridiculous assessment" after the Tory suggested his reliance on advisers was a "diversion mechanism".
The former prime minister also suffered a severe blow when he saw his rebellion against his successor Rishi Sunak's new Brexit arrangements for Northern Ireland fail.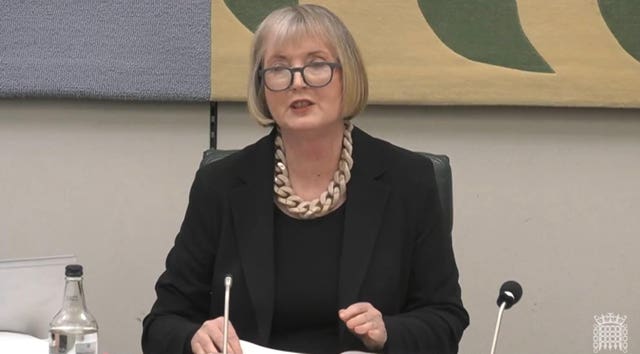 He took a break from the committee hearing to vote against a key Windsor Framework chart, but was joined by only 21 rebel Tory MPs, meaning it passed handily.
Johnson indicated that he could refuse to accept the verdict of the inquiry if it is found that he was in contempt of Parliament by deliberately misleading the House of Commons, saying he would "wait and see".
Conservative Party Chairman Greg Hands echoed the comment when asked if the committee was being fair to Johnson.
"We'll have to wait and see," he told ITV1's Peston. "I think it's impossible to judge that until we see the report."
Caroline Nokes, a senior Conservative MP, predicted that any hope Johnson may have of a return to Downing Street is futile.
Asked if he's finished if he's punished, he told Peston: "I think Boris Johnson is finished anyway."
A campaign group representing families grieving the pandemic accused Johnson of misdirecting and blaming everyone but himself.
Lobby Akinnola, from Covid-19 Bereaved Families for Justice, told BBC Newsnight: "A fair question is, do you need to be advised to tell the truth? And I think secondly, do you need advice to follow your own rules that he set?