While clearly disappointing for the royal palace, the decision is also a bad sign for Macron.
The 45-year-old president is increasingly loathed by protesters and challenged in parliament, seen as oblivious to France's bad temper while sticking to his positions. That is now also damaging the global image of him.
Charles was scheduled to arrive in France on Sunday to celebrate the renewed friendship between France and Britain.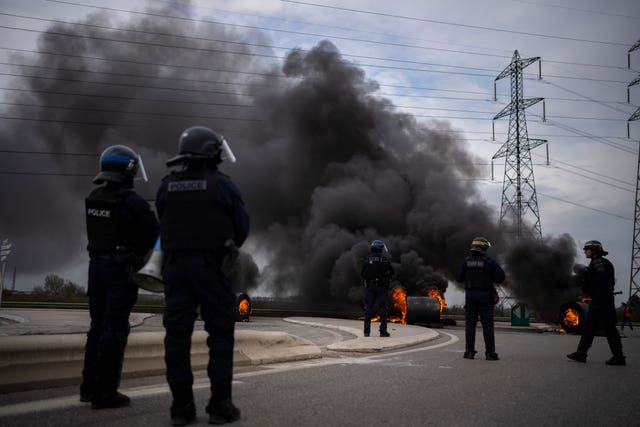 But protests and strikes against Macron's decision to raise France's retirement age from 62 to 64 promised to affect his visit, with some workers refusing to roll out the red carpet for the king's arrival.
Violence spiked during the ninth national marches organized by unions on Thursday. More than 450 protesters were arrested in Paris and beyond, and hundreds of police officers and protesters were injured, as the rallies drew more than a million people.
There were scattered protests on Friday. Trains slowed, lines of trucks blocked access to the port of Marseille for several hours, and rubbish littered the streets of Paris.
Macron has made the proposed pension changes the priority of his second term, saying they are necessary to prevent the pension system from slipping into deficit as France, like many wealthier nations, faces lower birth rates and a longer life expectancy.
Anger over the changes has increasingly turned into broader opposition to his leadership. His insistence this week that the retirement measure be implemented before the end of the year prompted critics to describe him as "cocky" and "out of touch."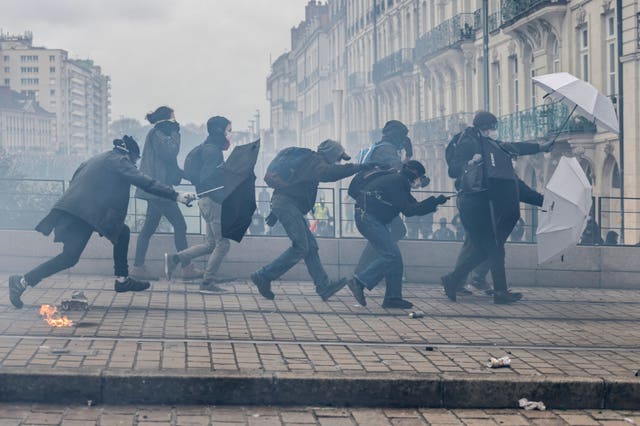 During his first term, Macron's government made other changes that he said would make France's labor market more flexible and revitalize the economy.
They included making it easier to hire and fire workers, cut business taxes, and make it harder for the unemployed to claim benefits.
Critics say the changes erode a social safety net seen as essential to the French way of life.
Countries across Europe have raised the retirement age. Retirement rules vary widely from country to country, making direct comparisons difficult.
Macron's plan involves multiple adjustments to France's complex pension system. It would also require the French to work 43 years for a full pension, or wait until they turn 67, as the law now requires.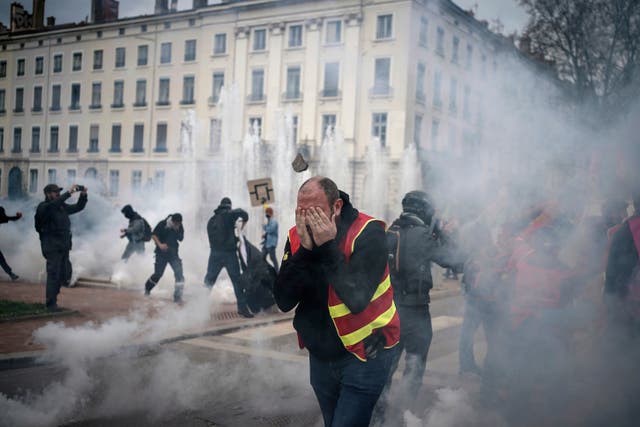 Opponents have proposed other solutions, including higher taxes for the wealthy or corporations.
However, the government refused to consider them and forced the bill through parliament last week, using a constitutional power, and the text is being reviewed by France's Constitutional Council. The forced passage further angered Macron's critics.
Macron condemned violent behavior at some protests, saying that "violence has no place in a democracy."
He said "common sense and friendship" required delaying the King's visit, saying he could have become a target of protest, creating an "abhorrent situation".
It would not be reasonable to "make a state visit in the midst of the protests," he told a news conference after a summit in Brussels.
He said he took the initiative to call Charles on Friday and that the visit would be rescheduled for the summer.
Charles and the queen consort planned to visit France and Germany during his first foreign trip as king. He still plans to go to Germany.
Charles was scheduled to visit the city of Bordeaux on Tuesday, coinciding with the tenth round of strikes and protests across the country.
The heavy wooden door of the elegant Bordeaux City Hall was destroyed by fire on Thursday during an unauthorized demonstration.
French authorities have blamed radicals for the protests. But the Council of Europe, the International Federation for Human Rights and the Reporters Without Borders media watchdog raised concerns Friday over police violence against what has been a largely peaceful movement.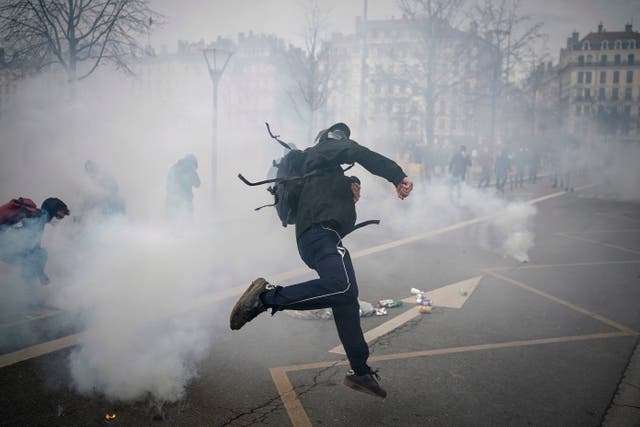 Interior Minister Gerald Darmanin said on Friday that investigations were underway into 11 complaints of excessive violence by police this week.
He added that 1,000 garbage containers were set on fire in the French capital; The overflowing bins have become a symbol of protests during a week-long strike by sanitation workers.
Fires in Paris that were intentionally ignited in narrow or inaccessible alleyways on Thursday alarmed city officials and residents alike.
Firefighters and residents worked to control the flames that rose to the second floor of an apartment building in the posh Palais Royal area.
Oil refineries have been another target. On Friday, emboldened protesters blocked the Fos-sur-Mer oil depot near Marseille to prevent trucks from going in and out.
However, the supply of fuel to Paris from the large Gonfreville-L'Orcher refinery in Normandy was resumed after police intervention.
Fearing disruptions in the coming days, the French Civil Aviation Authority requested the cancellation of a third of the flights at Paris' second airport, Orly, on Sunday and 20% on Monday.