Magpies fans have traveled from the north-east in large numbers for the match, their first major cup final appearance since losing 2-0 to United in the 1998/99 FA Cup final.
The 32,761 tickets allocated to the club at Wembley Stadium, with a capacity for 90,000 spectators, sold out in a week and traveling fans have wasted no time getting to know the capital.
Supporters gathered in Trafalgar Square as the sun set, singing together on the terrace, drinking cans of beer and throwing smoke bombs in the club's black and white colours.
Mehrdad Ghodoussi, the club's co-owner, posted a photo on social media of him and fellow manager Jamie Reuben enjoying the festivities with their hoods on.
One middle-aged fan even stripped down to his shorts to enjoy a dip in one of the two fountains in the square.
Other fans gathered around Nelson's Column in the center of the square, which commemorates Admiral Horatio Nelson's victory over the Spanish and French navies at the Battle of Trafalgar in 1805.
One of the songs the supporters sang was: "Tell me Mum, Mum, I won't be home for tea, we're off to Wembley" to the tune of the 1950s hit Que Sera, Sera.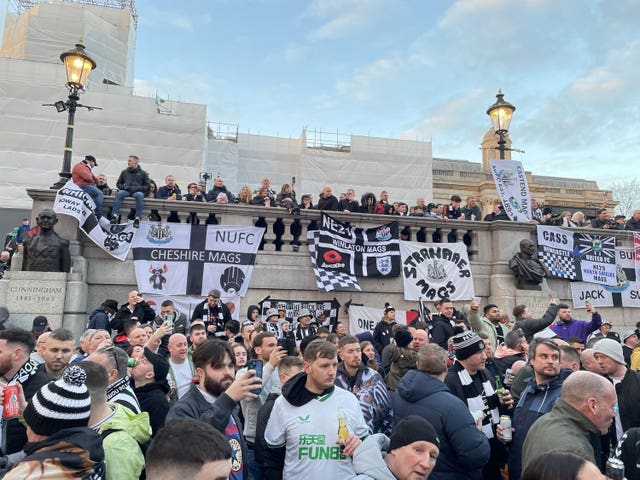 Another chant saw an alternate rendition of the gospel hymn When the Saints Go Marching In, with "Saints" replaced by "Mags".
Newcastle have enjoyed a rapid rise up the Premier League table since the arrival of Ghodoussi, Reuben and other new investors.
His Saudi Arabia-led consortium has funded more than £210m in new signings since he took over the club in October 2021.
Led by Eddie Howe, Newcastle sit fifth in the Premier League, just one point behind Tottenham Hotspur in the final Champions League qualifying spot.
Victory over Manchester United in tomorrow's final would secure the club a place in next season's Europa Conference League play-offs.
It would be the first time Newcastle have played in Europe since the 2012/13 campaign, when they reached the quarter-finals of the Europa League.