The prime minister said he was hopeful of a "positive outcome" in talks with the European Union as Westminster prepares for the presentation of a new protocol.
The British leader wants to make sure the Democratic Unionist Party (DUP) agrees to his final deal as he seeks to restore power sharing in Northern Ireland.
The DUP refuses to take part in Stormont's cross-community delegate government alongside Sinn Fein in protest at the impact the Brexit treaty is having on trade between Northern Ireland and Great Britain.
The party has issued seven tests that Sunak's deal will have to pass to win his support, including tackling what it calls Northern Ireland's "democratic deficit" which is bound by EU rules without a say in them.
Mr Sunak, speaking to The Sunday Times newspaper, promised that "whatever we do will tick all those boxes" in terms of unionist concerns.
A protocol agreement has been close to being announced for almost a week.
And after number 10 said "good progress" had been made during a Friday call between the prime minister and European Commission President Ursula von der Leyen, a breakthrough seemed imminent.
However, a plan for von der Leyen to travel to Britain on Saturday to meet Sunak and then have afternoon tea with the King at Windsor Castle was scrapped on Friday night.
Downing Street has since said "intensive" talks between London and Brussels are ongoing.
Irish Prime Minister Leo Varadkar said on Saturday UK-EU talks were "inching towards conclusion", calling on all parties to "go the extra mile" to sign off on negotiations.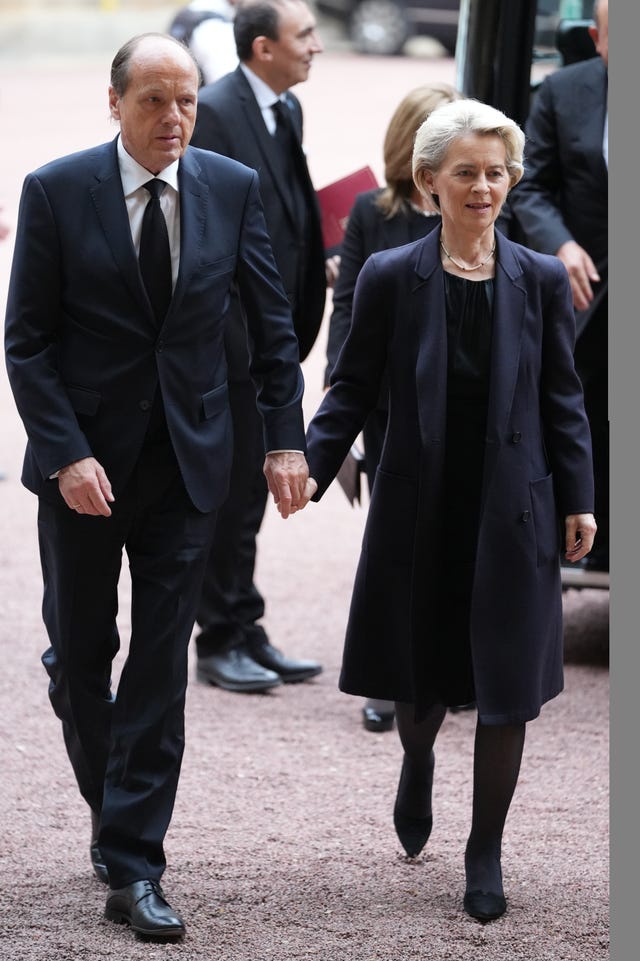 The prime minister told The Sunday Times that he was continuing to push for a final deal with the bloc.
"I'm here all weekend trying to do it," he told the newspaper.
"We are giving it everything we have."
He admitted there were examples "where Northern Ireland is felt not to be part of the Union" and that the protocol had "unbalanced" the Good Friday Agreement that helped end the Troubles in Northern Ireland.
Citing the example of not being able to implement alcohol tax reforms in Northern Ireland when he was Chancellor, as protocol dictates that it falls under EU single market rules for taxation, Sunak pledged to work to meet the unionist demands with any agreement it secures. .
"I'm a Conservative, a Brexiteer and a Unionist, and whatever we do will tick all those boxes, otherwise it wouldn't make sense to me, let alone anyone else," he told The Sunday. Times.
Several reports have suggested that a UK-EU deal is almost done, with Sunak holding off on an announcement until he is sure it will be accepted.
No 10 denies this, but reports suggest that Sunak has obtained concessions that will facilitate the flow of trade between Northern Ireland and Great Britain, a great nightmare for unionists.
GB's trusted merchants in Northern Ireland will reportedly not need to undergo checks as part of the plans, while VAT rates, taxes and state aid policy will be set by Westminster rather than Brussels as part of the offer on the table.
The prime minister has also reportedly negotiated a means by which the Northern Ireland Assembly in Belfast will receive pre-legislative scrutiny on new EU laws in a bid to eliminate the so-called "democratic deficit".
According to The Sun On Sunday, Sunak will invite cabinet ministers to number 10 on Sunday to brief them on the details of what he has secured so far.
Downing Street will be eagerly awaiting Boris Johnson's opinion on the new terms, and the former prime minister recently implored Sunak not to abandon his Northern Ireland Protocol bill, which would unilaterally overwrite parts of the treaty.
The Sunday Times reported that Mr Johnson, called in to back up what Mr Sunak is saying to appease the White House, responded by saying: "Fuck the Americans".
A source close to Johnson told PA: "This was a humorous conversation on camera that someone clearly didn't understand.
"That's not the kind of language I would use."
Fresh speculation about a new pact comes after Downing Street came under fire for a proposed meeting between EU leader Ms von der Leyen and the King.
No 10 is said to have foreseen branding Mr Sunak's agreement the "Windsor Agreement" if the German politician had been content to sign an agreement while in Britain.
Sammy Wilson, a DUP MP, accused the prime minister of "dragging the King into a hugely controversial political issue."
A UK government source said it would not have been inappropriate for the King to meet a visiting European leader.
The source told the PA news agency that he was "wrong to suggest that the King would be involved in anything remotely political."
Buckingham Palace had no comment.