key events
Ben Fisher was in Bournemouth to see City win easily. Your report is here, and here it is. Thanks for reading this MBM, and don't forget there's one last Premier League game left tonight – Luke McLaughlin is your guide to Crystal Palace v Liverpool. Enjoy enjoy!
Pep applauds the traveling support and Sky's cameraman focuses on him. In a good mood, Pep grabs the lens and, with a twinkle in his eye, turns the camera away from himself and towards his players. City will be delighted with his performance tonight, with the last minutes of difference. Mind you, Bournemouth will also be happy enough with the way they played. Sometimes there's nothing you can do, the cream has to come up, and they just got outplayed in the first half. They'll be pleased with their second-half performance though – Gary O'Neil will have sent his team back to earn at least a second-half draw – and that's what they did, albeit with the help of a lot of of City. substitutions Something to take from a game in which, let's face it, almost nothing was expected of them. (Now that's 12 Premier League wins in a row for City over Bournemouth on an aggregate scoreline of 38-7; Mac Millings can rest now that Watford's current cumulative total against City of 45-6 is still there on its own.) . day where they started it, two points behind the leader Arsenal…
while Bournemouth fall into the relegation zone.
FULL TIME: Bournemouth 1-4 Manchester City
The city is left on the shoulder of Arsenal in the title race!
90 minutes +3: Mahrez aims the free kick to the top left corner. Always wide, always tall. Net doesn't bother to move.
90 minutes +2: Mahrez dribbles in front of the Bournemouth box, from right to left. Just before he gets to D, Zemura hits him from behind. He does it twice, in fact, once outside the box, once well inside, after which Mahrez goes over the top. City wants a penalty, but neither the referee nor the VAR are interested in sanctioning it. Just a free kick.
90 minutes +1: On Sky Sports, co-commentator Andy Hinchcliffe names Ilkay Gundogan his man of the match, with a special mention going to Nico Lewis.
90 minutes: There will be three added minutes.
89 minutes: Anthony slides to the left, past a lead-footed walker, and curls to the top right. Ederson is beaten, but the ball misses the target at the last moment. Goal kick, but you can bet your last shiny penny that Pep will have words to tell his team about how they're watching this game.
87 minutes: …and now Lerma's pass down the right evades Foden, allowing Fredericks to break through. His low, hard cross to the near post is stifled by Ederson, which is good because Solanke came within inches of extending a leg to push home.
86 minutes: Walker's loose pass nearly let Solanke in on the left. This is an unnecessarily sleazy finish to an excellent performance by City. They've taken their eye off the ball here.
84 minutes: On the bench, Pep Guardiola is fuming. Always the perfectionist, huh.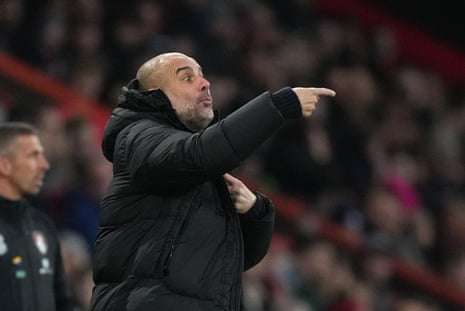 GOAL! Bournemouth-Manchester City 1-4 (Lerma 83)
…but Bournemouth haven't given up! They wanted a consolation, and now they have one that deserves their attack efforts! Zemura exchanges passes with Solanke on the left. City fails to cope with his cut, and the ball breaks Lerma, who controls the penalty spot and hits the goal!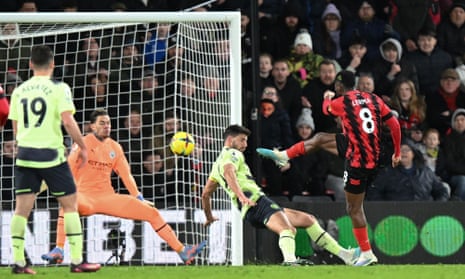 82 minutes: This match is wearing thin, and no wonder: City have replaced half their team.
80 minutes: The corner is eventually taken, leading to a minor melee. The ball goes to the left for Foden, who floats harmlessly into Neto's arms.
79 minutes: Perrone combines with Phillips down the left to earn a corner. Before it can be taken, Walker replaces Ake, who, like once Cherry, gets a warm standing ovation from his former fans. A lovely moment.
77 minutes: Solanke spins to the left only to be caught by the high boot of Phillips who, having been booked, really needs to look out here. To be fair, there wasn't much in the way of contact, but that's not really the point: he's giving the referee a decision to make. Fortunately for the City midfielder, the referee sees nothing in it.
76 minutes: Bournemouth swap Traore for Anthony.
74 minutes: Gomez has a shot that deflects over the top of the net. Nothing comes out of the resulting corner, but another corner, from which nothing comes out.
72 minutes: That is the last act for both Grealish and Haaland, who are replaced by Mahrez and, in his Manchester City debut, 20-year-old Argentine midfielder Máximo Perrone.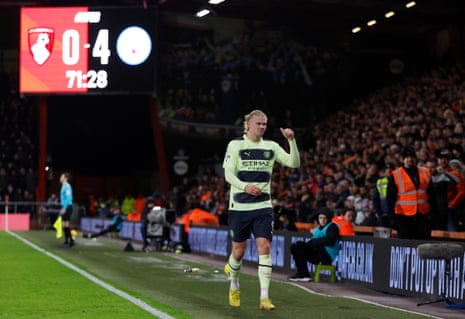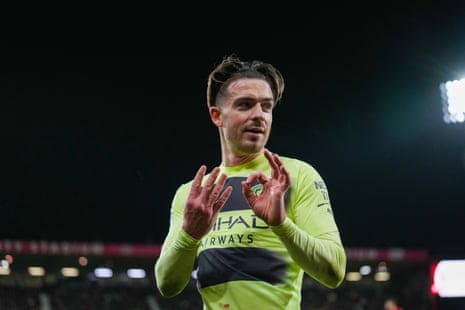 71 minutes: Lewis launches Foden into space on the right. Grealish and Haaland take turns trying to force the resulting cross, but Bournemouth pounce and manage to close the gate just in time.
69 minutes: Bournemouth's dandruff was active for a few minutes there, so City took the sting out of the situation with a patient coming through the back.
67 minutes: Bournemouth fans are not happy with VAR. But then who is it?
65 minutes: Solanke almost bursts into the box on the left, but is denied by Lewis, who gets in at the expense of a corner. From the stage, there's an absurd stigma to the six-yard box, a 1970s comic book cloud with boots and protruding arms. City eventually clear. VAR double-checks as there is a handcry, but when the fog clears, it's obvious the ball swelled up in Phillips' chest and not his arm.
63 minutes: Ajanki recklessly slides past Solanke, who was going nowhere in particular on the left. Another warning for the visitors, who have all three points in their bag, but don't want to spoil the evening by sending someone off unnecessarily.
62 minutes: Corner to City on the right. Ake, apparently determined to score against his old club tonight, finds him, but can only send his header harmlessly over the bar.
61 minutes: Phillips is booked for a no-nonsense lunge at Ouattara.
60 minutes: Foden rushes into the Bournemouth box from the right inside channel. The ball breaks Ake again, who lets out a scream that, if it hadn't been directly at Neto, would have ripped the net clean out of his frame.
59 minutes: Bournemouth's turn to make a double switch: Billing and Smith are replaced by Rothwell and Fredericks.
58 minutes: The fourth goal is officially a Mepham own goal… and his night goes from bad to worse as he's booked for a cynical ride on the Grealish in flight.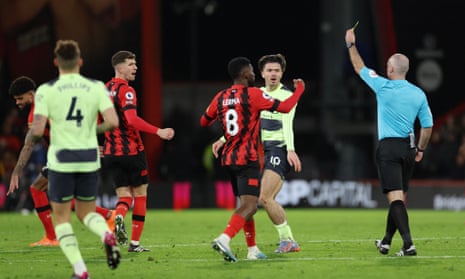 56 minutes: City make a double change, replacing Rodri and Gundogan with Phillips and Gómez.
54 minutes: Meanwhile, City fans are entertained by going through the Fleetwood Mac songbook. The lyrics are not word for word as Christine McVie intended.
52 minutes:
GOAL! Bournemouth 0-4 Manchester City (Alvarez 51)
Some pinball around the Bournemouth box. The hosts cannot punt. Álvarez sends a pearler to the low left. in goes That may end up turning into an own goal for Mepham, as he deflected into his corner en route. Let's see if Álvarez's shot goes wide. More when we have it.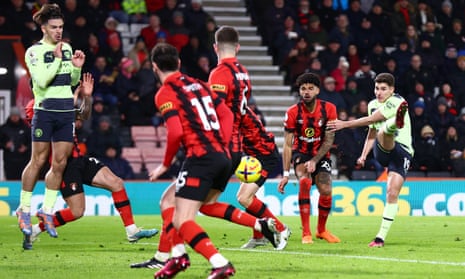 49 minutes: Gundogan has been a thorn in Bournemouth's side throughout the game. He slides to the right and looks for Alvarez in the middle. Zemura tries to clear it, but only finds Álvarez, whose shot is blocked. Foden and Gundogan then take turns, but are also denied. An early second-half goal for City would surely deflate Bournemouth to such an extent that the horn of potential defeat may need to be sounded.
47 minutes: Bournemouth are blown out of the blocks in what is probably a futile gesture. They are a bit anxious though, Ouattara awkwardly crashes into Grealish and wins the first booking of the night.
After keeping their hosts waiting for a couple of minutes (cheeky behavior on such a cold night), City got the second half going. Without changes. In the meantime, here's Mac Millings: "I was going to write to let you know (regarding your preamble) that Manchester City v Watford (45-6 in their last 12 Premier League games, plus the FA Cup Final 6 -0) is a much clearer conclusion than this prop. But as I write, City could still get the eight goals they need to equal it."
Half time reading. This is what happened at 3:00 pm, for your pleasure.
HALF TIME: Bournemouth 0-3 Manchester City
Bournemouth haven't been bad at all, Billing's late-brain fading to the side. It's just that Manchester City have dominated as champions do. Unless something very strange happens in the next hour, City will close the gap on leaders Arsenal to two points.
GOAL! Bournemouth-Manchester City 0-3 (Foden 45)
As if City weren't causing Bournemouth enough trouble, the hosts shoot themselves in the foot. Billing, on Bournemouth's right, plays a ludicrous square pass through the face of his own box. Foden is ahead of Stephens. He takes a couple of strides before firing an unstoppable shot into the right side of the net. Oh darling. Nice finish though!