An artist and gallery owner who survived the Bucha massacre remembers returning home only to find everything had been stolen.
Alina Kosenko sells paintings depicting the atrocities seen from her basement during the occupation by Russian soldiers.
Bucha is on the outskirts of kyiv and is an area where the occupying forces of the Kremlin allegedly committed war crimes.
Bodies with bound hands, close-range gunshot wounds and signs of torture lay strewn across the city after Russian troops withdrew from the area.
Ukrainian President Volodymyr Zelensky told the UN Security Council last April that Russian forces in Bucha had gang-raped women, including in front of their children.
Speaking to the PA news agency in Ukraine with the help of a translator, Ms Kosenko said she had lived in Bucha all her life.
He said that he remembers that in the first days he saw a lot of smoke outside the window and then he realized that there were many planes and helicopters in the sky.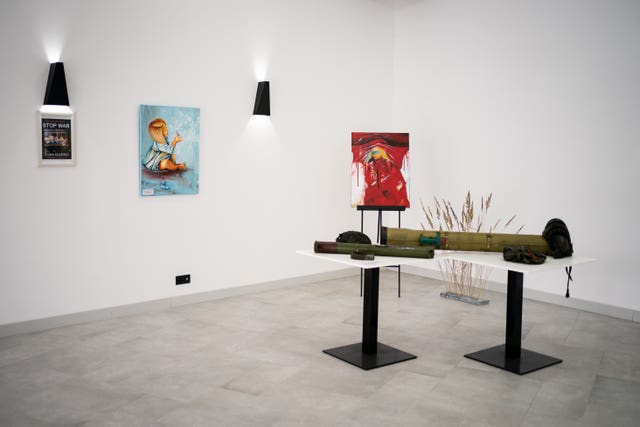 Ms. Kosenko said: "Every night I heard rockets, I heard planes and helicopters, and we call my close people every day to check if they are okay."
She remembered seeing Russian tanks near her building. "It was terrible," she said.
"So the first day there was no heating, no water, it was very, very cold. But I tried to do my job, and I've done some artwork, but it was very, very difficult to continue, but I kept working."
Ms Kosenko added: "When I was calm enough, I went up from my basement to see that all my windows were broken, and on the sixth day there was a missile that hit my roof."
She said that the tanks left on the seventh day and she went to her brother's house and stayed in the basement.
"It was safer there for me," he said.
Ms. Kosenko returned home on the eighth day to buy food that she shared with the others.
"But when I came home I saw that all my things had been stolen. There was nothing inside. No money, no credit cards, not even pottery.
"Everything has been stolen. And my neighbors saw how the Russians took everything with them, "he said.