Hundreds of people have gathered to demand an end to paramilitary violence in Northern Ireland.
The main street in the Co Tyrone town of Omagh came to a standstill as crowds gathered outside the courthouse for a rally in solidarity with a police officer shot by gunmen at a sports center in front of his young son.
Standing a short distance from where a 1998 dissident Republican bombing killed 29 people, including a woman pregnant with twins, they held signs reading: "There is no going back."
Detective Chief Inspector John Caldwell remains seriously ill after the attack in Omagh on Wednesday night.
He was attacked at a sports center where he trains a youth soccer team.
Earlier, Beragh Swifts, the football club where Mr Caldwell is a volunteer coach, led a charity walk through the village of Beragh on the outskirts of Omagh.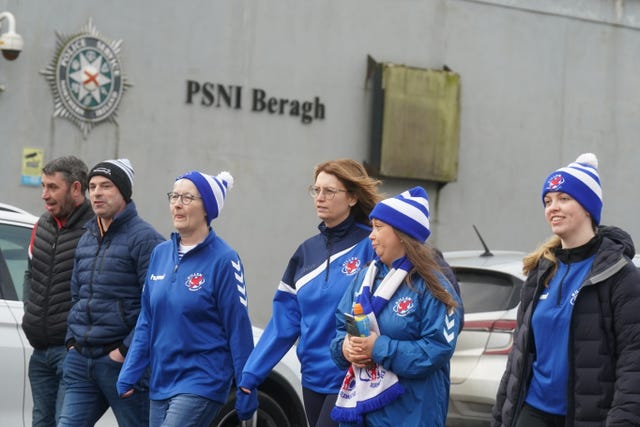 Five men have been arrested under the Terrorism Act in connection with the attempted murder investigation.
On Saturday afternoon, police said they had been given more time to question four of the men.
A PSNI spokesman said a Belfast court had granted an extension of the detention of four male suspects, aged 22, 38, 45 and 47, until 10pm on Tuesday 28 February.
A fifth man, 43, who was arrested on Friday, also remains in custody.
Police have said the New IRA splinter Republican group is their main line of investigation.
They have asked that witnesses or those with information contact detectives by calling 101 or online.
Information can also be provided to the police via the Major Incidents Public Portal, including photographs, CCTV and dash cam footage.
The demonstration in Omagh on Saturday morning was organized by unions.
Anton McCabe, secretary of the Omagh Trade Union Council, said they had in mind that a man is still seriously ill and children are traumatized by the incident, and they wanted to have a demonstration that was as respectful as possible.
"We are here today to say that there is no going back, that there is no going back to violence, fear and injustices," he told those gathered to applause.
Unison's Patricia McKeown said that peace in Northern Ireland was only born when "a massacre was perpetrated against the men, women and children of Omagh".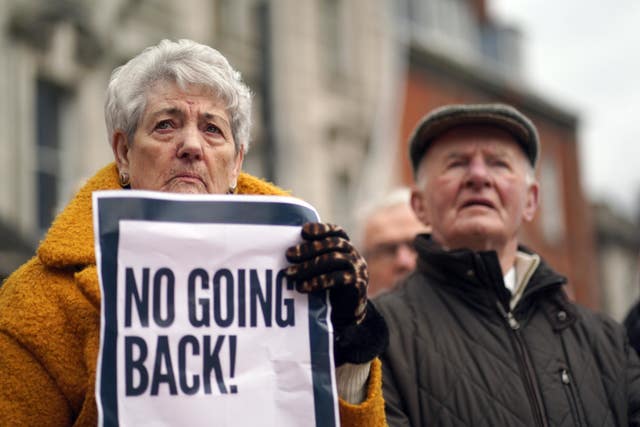 "Twenty-five years later, the attempt has been made again and their spirit and determination have not been broken," he said.
"The factions that rejected our peace agreement will not change the resolve of the people."
Nipsa's Padraig Mulholland said there are two Omaghs.
"There is the Omagh where this attack occurred, but there is the positive Omagh; there is the Omagh who want positive change and who were best represented by the health and education workers who staged another protest here earlier this week. They were here for the youth, for the working people, trying to fight for a better future," he said.
"There is no going back, let's fight for a better future for all."
McCabe delivered the final speech, saying: "Today a clear message has been sent: there is no going back.
"Those who shot John Caldwell on Wednesday were in grave danger of starting a fire that could burn us all, and let's be clear, the people of Omagh today have said no, there is no going back.
"Not only are we horrified by what was done to John Caldwell, but we are here saying, 'Let's build a better society of justice, peace and equality.'"
A minute of silence was observed.
Speaking after the event, McCabe praised those who attended the rally, describing it as a strong message from the people of Northern Ireland that they do not want a return to violence.
Earlier, hundreds gathered in Beragh, some eight miles from Omagh, for a solidarity walk from the Beragh Swifts ground for Mr Caldwell.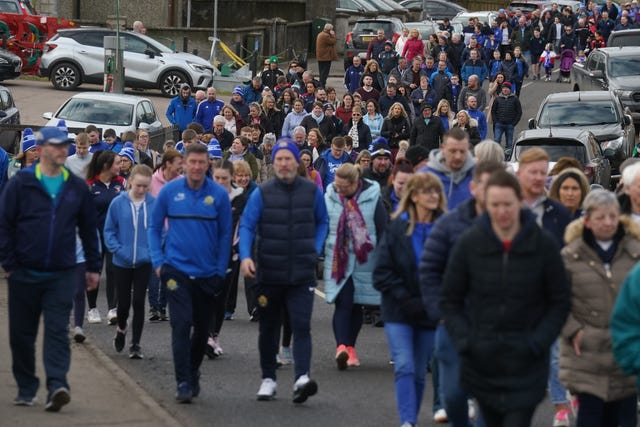 Beragh Swifts chairman Richard Lyons said the community rallied in support of his friend and all the children affected by the shooting.
"It has been a very difficult moment for the club; It has been a very difficult time for the community," he said.
"John worked tirelessly for this club. He is no different than any other volunteer…the contribution that John gives to this club is phenomenal and this is an incredibly difficult time for all of us."