The Scottish independence movement should not be caught in a "process quagmire", Humza Yousaf said, setting out his views on how the SNP should decide the way forward.
He also said he would set a timetable for the remaining Scottish government independence prospectus papers.
Mr Yousaf met supporters at the V&A Waterfront in Dundee on Saturday as the competition for the SNP leadership continues.
If he becomes leader, he said the party will hold a series of regional caucuses so that "honest and frank discussions with members" can take place.
These would inform the SNP's annual conference in the fall.
Yousaf told the PA news agency: "I think all the options that are within a legal framework should be on the table.
"I have made my views clear: I am not married to the idea of ​​a de facto referendum.
"I think there are advantages but certainly disadvantages to that option.
"I am not going to hinder the regional assemblies. I will not hinder our members.
"I want them to have an honest, direct and engaging discussion."
He continued: "The next step is to get out of the process and talk about policy, for us to get out there, restart the Yes campaign, knock on doors, bang on the sidewalks and talk to people and make sure there is a sustained majority for independence.
"That is the next step.
"We don't want to get caught up in a process quagmire."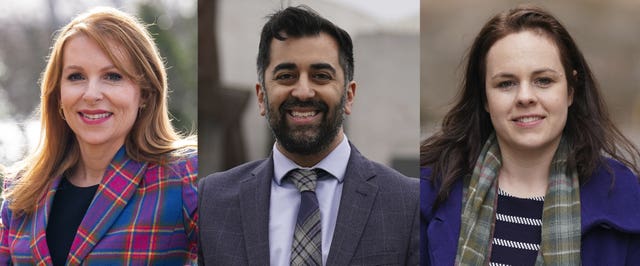 Yousaf said he would be "happy" to set a timetable for the remaining prospectus papers on independence if he becomes prime minister, saying they have not been delayed by leadership competition.
They include a fiscal assessment of the economic prospects of an independent Scotland, Yousaf said.
He said, "That's one of the papers that's in the ether; there are a few others that are ready to go.
"I will make sure that if I am elected as First Minister of Scotland, those documents reach the public domain sooner rather than later."
When asked about former minister Alex Neil's comments, Yousaf said he will run a "relentlessly positive" campaign.
Neil questioned whether the current health secretary has the "backbone" for the top job, saying he deliberately avoided a vote on marriage equality in 2014 due to pressure from his mosque.
Yousaf denied this, saying he was unable to attend the stage three vote because of an "unavoidable meeting" over a Scotsman who was on death row in Pakistan.
He said: "My views have never changed. I have always been in favor of equal marriage."
Nominations in the race to replace Nicola Sturgeon closed on Friday with voting running through March 27.
In addition to Mr Yousaf, Finance Secretary Kate Forbes and former minister Ash Regan are in the running.