The widow of poisoned dissident Alexander Litvinenko has said she is "very proud" of the hundreds of Russians who marched on their own country's embassy in central London to mark the first anniversary of the invasion of Ukraine.
Marina Litvinenko said the anti-war protest showed that not all Russians supported the actions of President Vladimir Putin, whom she called a "war criminal."
Protesters chanted: "Victory for Ukraine, freedom for Russia" and: "Stop Putin, stop the war" as they walked from Marble Arch to the embassy in Kensington to protest against the war in Ukraine.
Ms Litvinenko told the PA news agency: "I am very proud to see this huge crowd of Russians. They have all been very strong in saying that they support Ukraine and that they hate Putin because that is why they might have had to leave the country.
"When we talk about Putin now, we are talking about a person who started a war but has committed many crimes against people, countries and people.
"He killed my husband Alexander. I think he gave the order and now he has killed many innocent Ukrainians."
She added: "We need to be proud to speak the Russian language. We need to use the Russian language to say Slava Ukraini – glory to Ukraine – and to say in Russian: 'Putin is a criminal.' This is very important. Not all of Russia supports this war."
The story of Mr Litvinenko's death was outlined in the ITV Litvinenko mini-series in December last year, with Mark Bonnar and David Tennant starring alongside Russian-American actress Margarita Levieva, who played Mrs Litvinenko.
The path outside the embassy remains stained with the yellow and blue of the Ukrainian flag after the activist group Led by Donkeys dumped 170 liters of paint on it on Thursday.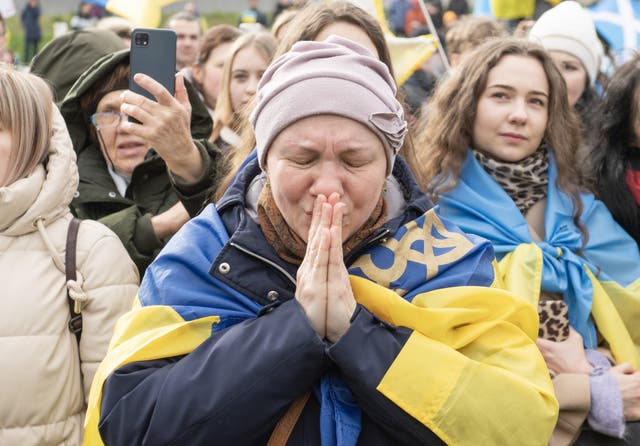 One man held a poster mocking a cigarette pack that read: "Putin kills," while another cardboard banner with pictures of Ukrainian leader Volodymyr Zelensky and Russian opposition leader Alexei Navalny read: "Without victory you cannot have survival."
The crowd then heard speeches by Ms. Litvinenko, opposition leader Mikhail Khodorkovsky and financier Bill Browder, among others.
Browder, who heads the Magnitsky Global Campaign for Justice, which seeks democracy in Russia, told PA that the number of Russians present at the rally was "unprecedented."
He said: "Everyone talks about how the Russians are brainwashed. These people have not been brainwashed. These are Russian citizens and Russian émigrés who say Putin's murderous war in Ukraine is not right.
"What it tells you is that Putin's brainwashing doesn't work outside of his own propaganda bubble inside Russia. These people know the truth and they know the truth is horrible.
"What Putin is doing is criminal, murderous and disgusting, and they don't want it in his name."
He added: "I think the number of people here is unprecedented. There were several Russians before who may have been upset by Putin but didn't want to go out on the streets. But what he is doing in Ukraine requires people to take to the streets.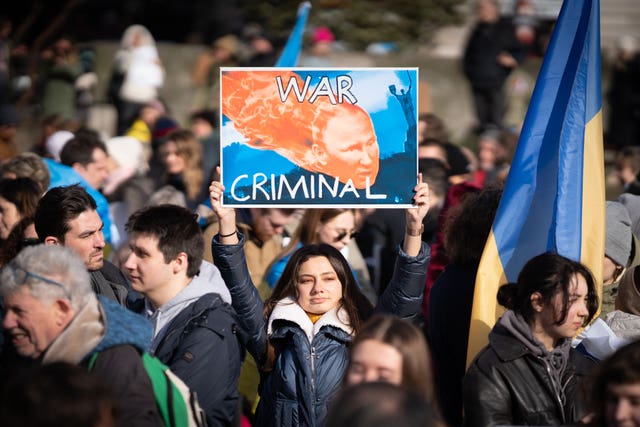 The protesters waved the flags of Ukraine and the Russian democracy movement, which replaces the lower red stripe of the Russian flag with a white stripe.
The banners on display read: "No to bloody Russian imperialism," while one showed the face of Russian President Vladimir Putin captioned: "War criminal."
Protesters also chanted "Russians against the war," "hands off Ukraine," and "planes for Ukraine" as they walked.
Ksenia Maximova, founder of the Russian Democratic Society (RDS), which organized the protest, said in her speech: "This is a time for action and a time to unite. Putin's government spent years instilling hatred in the hearts of the people.
"We are closer than ever. Now we are in almost all countries and every day we are stronger".
The RDS was founded after the invasion and has raised over £18,000 to send generators to Ukraine to limit the impact of blackouts.
He has also donated over £10,000 to refugee shelters in Kazakhstan, Armenia and Montenegro.