Mary Lou McDonald has said that Boris Johnson's government had not been "frank" with unionism and was determined to act "unilaterally".
The Sinn Fein president also said she had found Johnson's tenure as British prime minister difficult and frustrating, adding there was a tendency to act "out of good faith".
Ms McDonald was speaking in a pre-recorded interview for ITV's Peston program when the former Tory leader voted against a key element of the latest EU-UK protocol deal.
The Windsor Framework was unveiled by UK Prime Minister Rishi Sunak and European Commission President Ursula von der Leyen last month, and was hailed as a significant breakthrough on pending issues with post-war trade. Brexit in Northern Ireland.
On Wednesday, Johnson and members of the DUP were among 29 MPs who voted against the Stormont brake aspect of the deal, with 515 voting in favour.
Johnson, who agreed to the original protocol with Brussels as a way to avoid a hard border on the island of Ireland, said he would find it difficult to accept the deal if aspects of EU law remained in force in Northern Ireland.
DUP leader Sir Jeffrey Donaldson said the "bottom line" for the party to restore Northern Ireland's power-sharing institutions was to ensure that EU law could not impede Northern Ireland's ability to trade with the rest of the UK.
"Until that is resolved, I cannot commit to the Government to restore political institutions; It's what I want to do, but we have to do it right," he said.
Asked about the difference in tone since Sunak took office, McDonald said he seems to be looking for a more stable relationship with the EU.
"Boris Johnson, if you happen to watch this show, you won't be surprised to hear me say that I found those moments very, very difficult, very, very frustrating.
"I think the Johnson administration was not at all direct with unionism, with Irish unionism, which was a problem for all of us.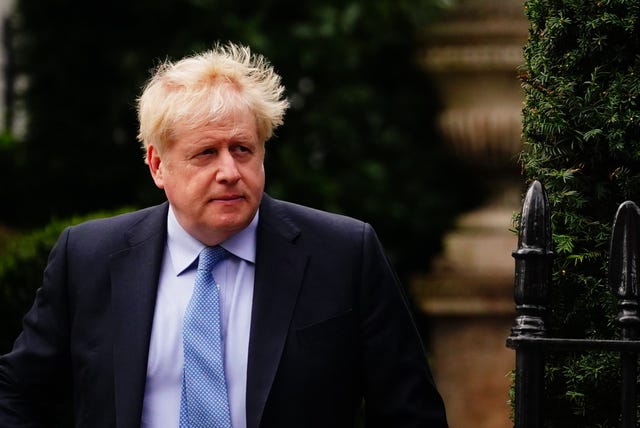 "And I think there was also an absolute determination to act unilaterally, to act out of good faith.
"And I can only wait, and I guess time will tell whether or not the new Prime Minister will consistently observe international law, act in partnership with others and rebuild the healthy and necessary dynamic relations between Ireland and Great Britain, but also with our European partners.
Ms McDonald said there was still "substantial cause for optimism" in a breakthrough that would see the return of power-sharing institutions, adding that it was "a case of moving forward at full speed" in the Windsor Framework.
"I took note of Jeffrey Donaldson's comments today…he takes the position that a return to Stormont is not possible at this stage. I don't agree with him on that point."
Ms McDonald said that at a time when the world's eyes would be on Northern Ireland for the 25th anniversary of the Good Friday Agreement, there was "an immediacy in seizing opportunities as they present themselves".
When asked about a possible referendum on Irish unity, Ms McDonald said the party wants "everyone to be involved" in the discussions that would precede such a vote.
"I think that in the course of this decade we will have referendums," he said.
"I want to start and deepen the preparatory work, where we have a whole-of-society conversation about what Ireland will be like in the next 10 years, the next 20 years, the next 25 years, and we want everyone to participate. in that.
"But I absolutely believe that we will have the referendums, I absolutely believe that we can win those referendums and I believe that we can build an incredible new democratic dispensation on this island."
He also said the party is "open" to discussions about reforming aspects of the Good Friday Agreement.
"So we are open to any and all of those conversations, keeping in mind only the absolute necessity to preserve and protect the essential elements of the Good Friday Agreement and of shared power: the essential elements of parity of esteem, equality .
"And then, of course, the parity of protections for minority rights. Those really are at the heart of the Good Friday Agreement."