Voters in Nigeria are casting their ballots to elect a new president as Africa's most populous country grapples with a shortage of national banknotes that some observers fear will result in lower-than-expected turnout.
The presidential and parliamentary elections come amid fears of violence, from Islamic militants in the north to separatists in the south, though officials stressed this year's vote will not be postponed as the last two presidential elections were.
Voting started late in some states where election officials did not arrive in time to verify voters' identities before they could cast their ballots.
From the field of 18 presidential candidates, three frontrunners have emerged in recent weeks: the ruling party's candidate, the main opposition party's candidate and a third party that has garnered strong support from younger voters.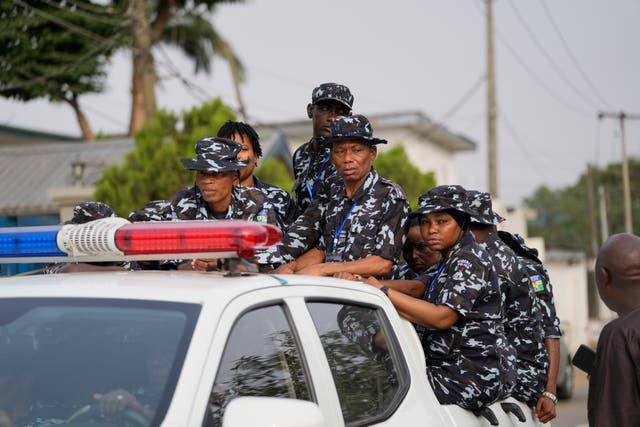 But it was unclear whether those supporters would turn out in force at polling stations, as Nigerians waited hours in lines at banks across the country last week looking for money.
The vote is being carefully watched as Nigeria is Africa's largest economy and one of the continent's top oil producers.
By 2050, the UN estimates that Nigeria will tie with the United States as the third most populous nation in the world after India and China.
It's also home to one of the world's largest youth populations: around 64 million of its 210 million people are between the ages of 18 and 35, with an average age of just 18.
The tenure of current President Muhammadu Buhari was marked by concerns about his failing health and frequent trips abroad for medical treatment.
Two of the leading candidates are in their 70s and both have been in Nigerian politics since 1999.
By contrast, at 61, third-party candidate Peter Obi of the Labor Party is the youngest of the favorites and had risen in the polls in the weeks before Saturday's vote.
Still, Bola Tinubu is strongly supported by the ruling All Progressives Congress party as a major supporter of the current president.
And Atiku Abubakar is credited as one of the richest businessmen in Nigeria, having also served as vice president and 2019 presidential hopeful for his People's Democratic Party.
The presidential election also features many first-time voters, such as Wuraola Abulatan, 30, in Lagos, who accused the ruling party of failing to deliver on promises it made in 2015 when it first came to power.
"I lost hope for Nigeria, but when Peter Obi started campaigning, that hope came back," he said.
"I want to see Nigeria improve."
The full impact of Nigeria's currency crisis on Saturday's election was not immediately clear, although officials said they had been able to raise much of the money the government needed to carry out the vote.
In Lagos, a policewoman who was queuing at a bank to withdraw cash told The Associated Press on Thursday that she has not been able to go to the place where she was assigned for the elections because she could not get the cash.
After officials announced the decision to redesign Nigeria's currency, the naira, in November, the new notes have been slow to circulate.
At the same time, older banknotes were no longer accepted, creating a shortage in a country where many use cash for everyday transactions.