Hundreds of white paper angels, each representing an innocent child killed in the war in Ukraine, hung above political and religious leaders who had gathered in London to pray for peace.
The haunting image reflecting the human cost of the year-long Russian invasion formed the backdrop for an interfaith service attended by former Prime Minister Boris Johnson, London Mayor Sadiq Khan, dignitaries and members of Ukraine's scattered community. .
Those who were forced to flee their homes, lost family and friends and who are sick with worry for their loved ones in Ukraine were thought of at the somber service in the Ukrainian Catholic Cathedral.
Loud applause broke out as Johnson, who had watched intently from the front row and was an early international supporter of the Eastern European nation, had to leave the service early.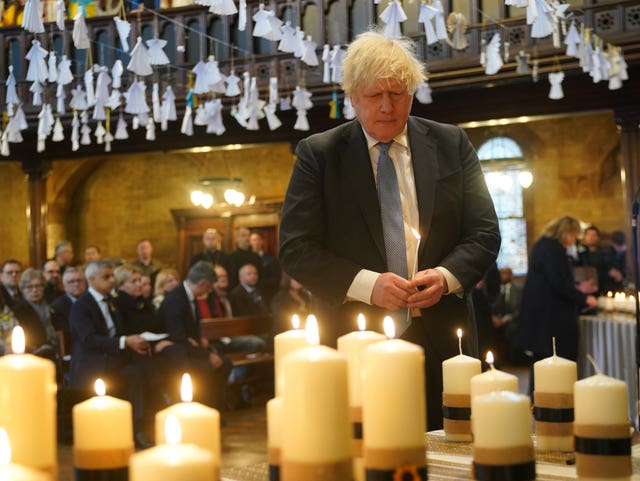 Khan told the gathering that Russia must pay for its crimes and aggression, that the international community could have moved faster to help and that Ukraine's "valor inspired the world."
He said: "A year ago Ukraine was threatened by tyranny. The future of her nation was uncertain.
"Your borders were breached and many of your cities surrounded.
"It seemed that all hope was lost, but then something remarkable happened: the Ukrainians did not turn around, you resisted.
"Orthodox Christians, Jews, Catholics, Muslims, and men and women of other faiths all came together, united under one banner and by one unwavering belief…
"The belief that all Ukrainians have the right to choose their own destiny.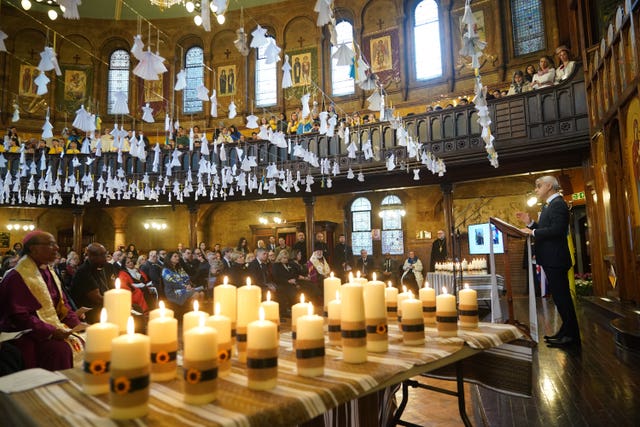 "Your courage inspired the world."
Khan, who said that "London is with you", also reflected that "nations came together, like never before, with sanctions, aid and weapons, but no one should make the mistake of thinking that Ukrainians owe us something."
He added that "we are the ones who owe everything to the Ukrainians" since "a threat to their democracy is a threat to our democracy."
Khan said: "For too long, and to our collective shame, the actions of their attackers were met with inaction.
"As a country, we allowed our homes, businesses and soccer clubs to be bought up and used to launder ill-gotten gains.
"And the cost of our complacency would eventually be paid by ordinary Ukrainians.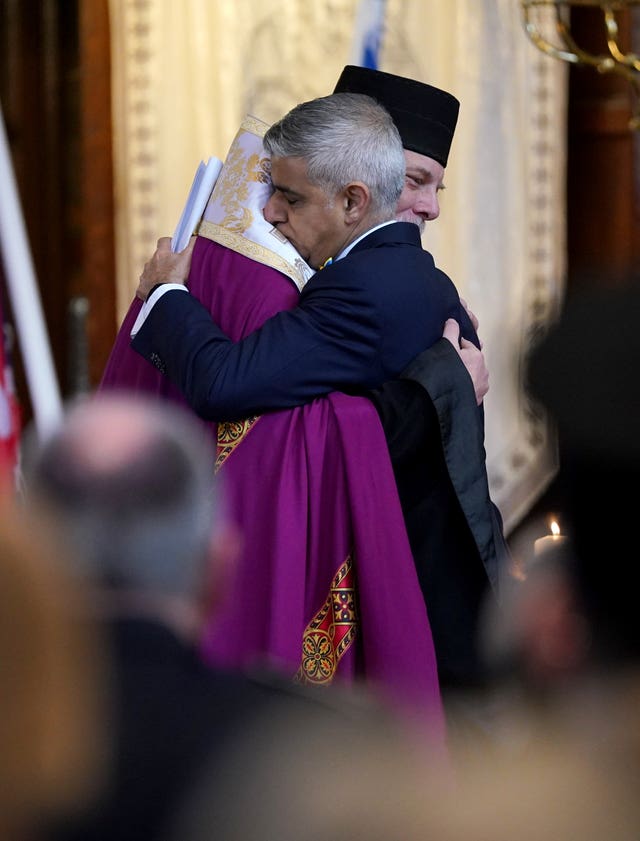 "I should never have taken your suffering to act.
"At this tragic milestone, I again call on the Government to decisively rid our capital and country of illicit finance and never again allow London to become a haven for corrupt wealth."
He added: "For every village, town and city your heroes liberate, more evidence of unspeakable atrocities is uncovered.
"The individuals responsible for these evil acts must be held accountable, but that alone is not enough.
"Every effort must be made to ensure that Russia pays reparations for lives lost and damage caused, and that (Russian President Vladimir) Putin, and his acolytes, answer for their crimes in a court of law.
"Some say there is no chance of success, but a year ago many said that Ukraine had no chance of success, and look where we are."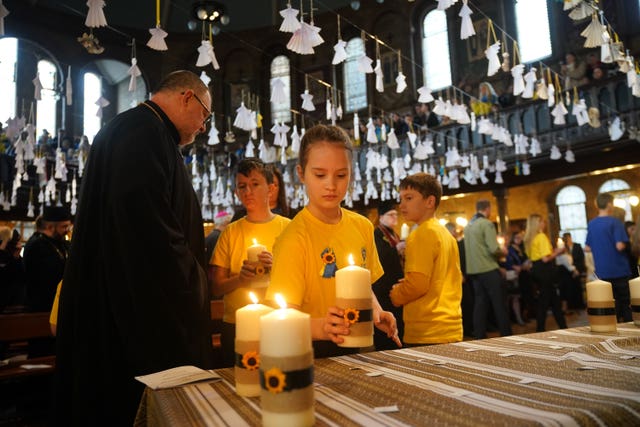 Children from St Mary's Ukrainian School, many in yellow t-shirts, could be seen holding candles as a variety of religious leaders offered prayers and sang hymns.
These included good wishes for the President of Ukraine, Volodymyr Zelensky, and his supporters.
In a solidarity message released on Thursday, Archbishop of Canterbury Justin Welby said: "The Russian decision to invade Ukraine was a monumental act of evil.
"Only by supporting Ukraine can we hope to build a just and lasting peace."