An earthquake with a magnitude of 3.7 has shaken parts of Wales overnight.
The British Geological Survey said the quake, which had a depth of 3.6 km (2.2 miles), struck at 11:59 p.m. on Friday.
Its epicenter was Brynmawr in Blaenau Gwent, approximately 12 miles from Merthyr Tydfil.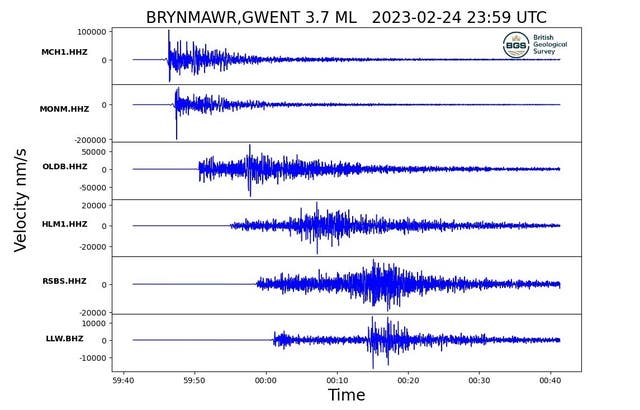 Residents throughout the region, mainly within about 25 miles of the epicenter, reported the incident.
The reports described that "the whole house was shaking", "the crash and explosion woke me up", "my bed seemed to move from side to side" and "it was like a huge explosion", the British Geological Survey said.
Kathryn Gower, 37, lives more than 18 miles from the quake's epicenter in Llanbradach, Caerphilly, and said she has never "experienced anything like it" in Wales.
"I was woken up by the shaking of the bed, it was a very strange feeling," Ms Gower, who works in the charity sector, told the PA news agency.
"(It was) a bit disconcerting.
"I felt it for a few seconds, I would say… It wasn't loud, almost like when a big truck goes by and you hear a very low distant rumble."
People on social media described hearing a loud banging noise before their houses trembled.
BBC journalist Alex Humphreys said she felt what appeared to be a "mini-quake" in Cardiff.
"My whole bed shook. Felt like something hit the wall," she tweeted.