Humza Yousaf says the SNP should decide the way forward for Scottish independence through regional assemblies of party members.
At a campaign event on Saturday, he is expected to say that these caucuses will inform the party's decision at its annual conference, which is usually held in the fall.
Before Nicola Sturgeon announced her decision to step down, the SNP was due to hold a special conference on March 19 where members would choose the next steps in the independence campaign.
However, this conference has now been postponed and Mr Yousaf says there should instead be "a series of honest and frank discussions with members".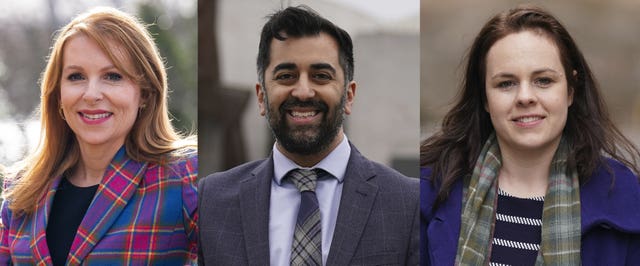 Nominations in the race to replace Ms Sturgeon as SNP leader and prime minister closed on Friday.
In addition to Mr Yousaf, who is the Scottish Health Secretary, Finance Secretary Kate Forbes and former minister Ash Regan are running.
Voting will close on March 27.
Yousaf is expected to tell SNP members in Dundee: "Let me be clear, determining the path to independence will not simply be a one-off discussion at a special conference.
"Rather, it should involve a series of honest and frank discussions with members across the country to set out our path towards an independent Scotland.
"The only way we can counter Westminster's undemocratic actions is through more democracy, entrenched throughout our society, including our party.
"Within my first week as leader of the SNP, I will immediately set up regional assemblies across Scotland to take advantage of the discussions of all our
members and branches on how to achieve independence.
"This will allow our party to decide our collective plan for independence at the annual conference, and as leader of the SNP, I will act on the collective and democratic decisions of our members."
He will add: "I will launch the Yes campaign, ensuring our activists are revitalized and more energized than ever against the Tory cost of living crisis and a Westminster government that has mounted a frontal takeover of Parliament from Scotland.
"We must harness the wealth of opinion, knowledge and experience at our disposal to unlock the best path forward, engaging with the civil society that launched our campaign in 2014."